PROJECT OVERVIEW:
Better Lemon Creative Audio
Better Lemon "specializes in all things podcasting and creative audio for museums, history organizations, and other cultural nonprofits." I had the pleasure of working with the owner/founder Hannah Hethmoth to produce a lively brand identity that could work on both printed and digital materials.
Freelance design project, 2020
"It was such a pleasure to work with Lauren. She went above and beyond to develop logos, branding guidelines, and other material. I was really impressed with Lauren's creativity in interpreting my initial brief. In addition, her work was very fairly priced and she was extremely timely and professional with all her communications and deliverables. I would recommend Lauren to anyone looking for graphic design work, and I will certainly be using her services again as my company grows."


-Hannah Hethmoth, Owner/Founder of Better Lemon
PROJECT OVERVIEW: 
The Franklin Awards
Since 1824, The Franklin Institute has publicly recognized excellence in science through their Franklin Institute Awards program. Past laureates include Nikola Tesla, Marie Curie, and Frank Lloyd Wright. In 2014, I worked on the rebranding of The Franklin Institute Awards to give it a contemporary and elegant look. My major source of inspiration for the rebrand was the Laureate's Medal—making the gold emblem the main focus on all materials. I used gold metallic inks on uncoated paper, to help give the print pieces a sophisticated look. The Awards program creates an abundance of mailers and printed materials, so I ensured that the brand incorporated sustainable and recycled materials. Besides the printed pieces, I also created the environmental signage for The Franklin Awards Ceremony.
Created while at The Franklin Institute, 2014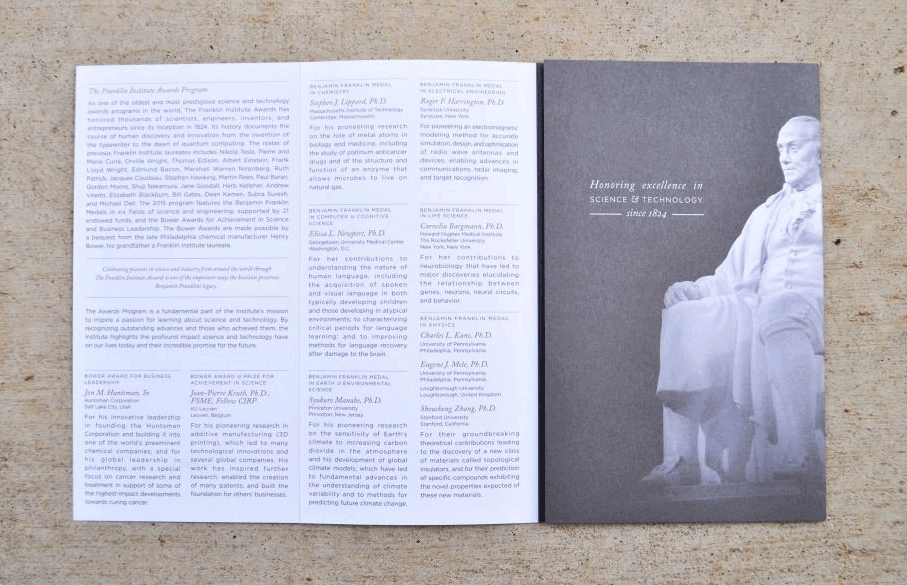 PROJECT OVERVIEW:
Extra-Curricular Intellectual Property Innovation Center
EPIC is a collective for young innovators. The organization teaches teens about copyright and intellectual property laws, as well as providing them with studio space to invent and create. EPIC stands for Extra-Curricular Intellectual Property Innovation Center — but pronounced "EPIC". The challenge was to create a logo that represents all letters (EiPIC), but reads as EPIC.
Created while at The Franklin Institute, 2013.